Electronic Evidence Presentation System (EEPS)
SUBMITTING EVIDENCE TO THE COURT  TO PRESENT ELECTRONICALLY
The use of electronic exhibits is governed by Local Rules 9070-1 (Exhibits), 9070-2 (Exhibits After Final Judgment), and 9074-1 (Remote appearance and witness testimony).  Exhibits should be submitted at least three days before the hearing/trial.[1] It is your responsibility to serve a copy of your exhibits on all other parties. Exhibits submitted to the Court constitute the official exhibits for that hearing/trial.
HOW TO SUBMIT EVIDENCE TO THE COURT
Exhibits may include any of the following file formats: Word, Excel, PDF, MP3, MP4, WAV, JPG, and PNG. Other file formats should be converted to PDF before submitting.
Name your exhibit files using the following naming convention:
     [Party] – [Exhibit No.] – [Brief Description]
      e.g. "Debtor - Exhibit1 - Residential Lease Agreement.pdf"
At least three days before the hearing/trial, upload your exhibits here:     Judge Van Eck cases        For Judge Conway cases
HOW TO DISPLAY EVIDENCE IN COURT
Each party will present evidence using their own device and their own copy of the exhibits. With advance notice, the Court can supply an appropriate device to present evidence in the courtroom.
When you are asked to present evidence, navigate to the Zoom control bar and click Share Screen.

A screen will appear asking what you want to share.  Choose either screen (all participants will be able to see everything you have open on your desktop) or a specific application like Acrobat.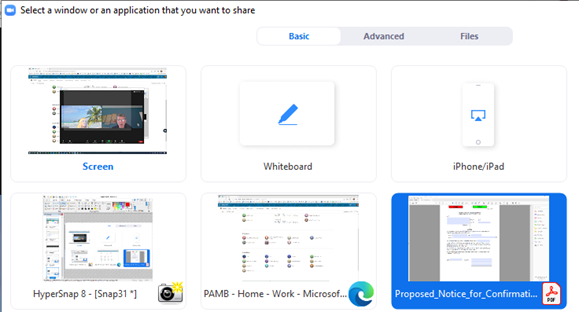 When you have completed your presentation, click the link at the top to stop sharing.

---
[1]  As a general rule and subject to Local Rule 9070-1, attorneys and parties should submit their exhibits and share them with the other parties at least three days prior to the scheduled hearing or trial. It is up to the discretion of the presiding judge whether to accept exhibits submitted less than three days in advance.